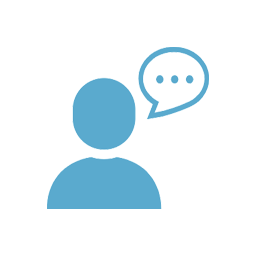 What about the Google Pixel 5? A device that could actually work?


Hi, I'm Takafu.

The Google Pixel5 looked good in terms of specs and design, and
I was extremely curious about the fact that this is a Google-manufactured smartphone that develops Android above all else, so I bought it.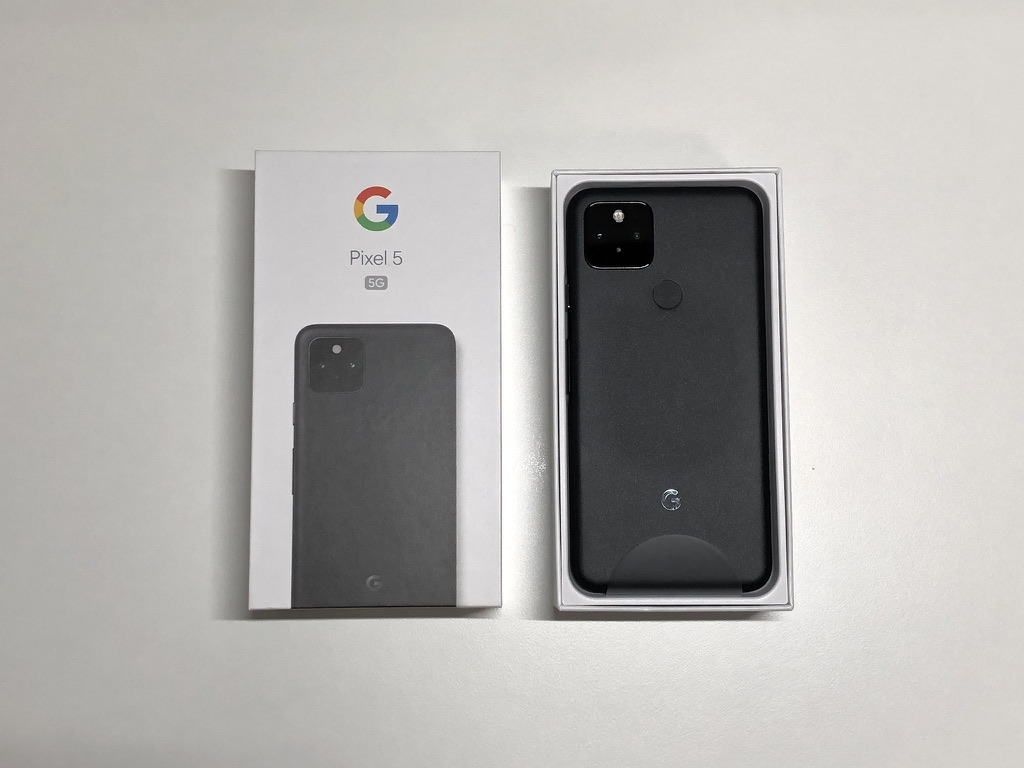 I bought this one as a sub terminal.
It was such a good device that it was a waste of a sub-device that I'd like to write an article about my impressions of it.
Why did you buy it?
I usually use an iPhone X.
It is convenient to have an Android device for app development, so I decided to have Android as a sub device.

I have been using the HUAWEI P20 lite as a sub-device for that device until now.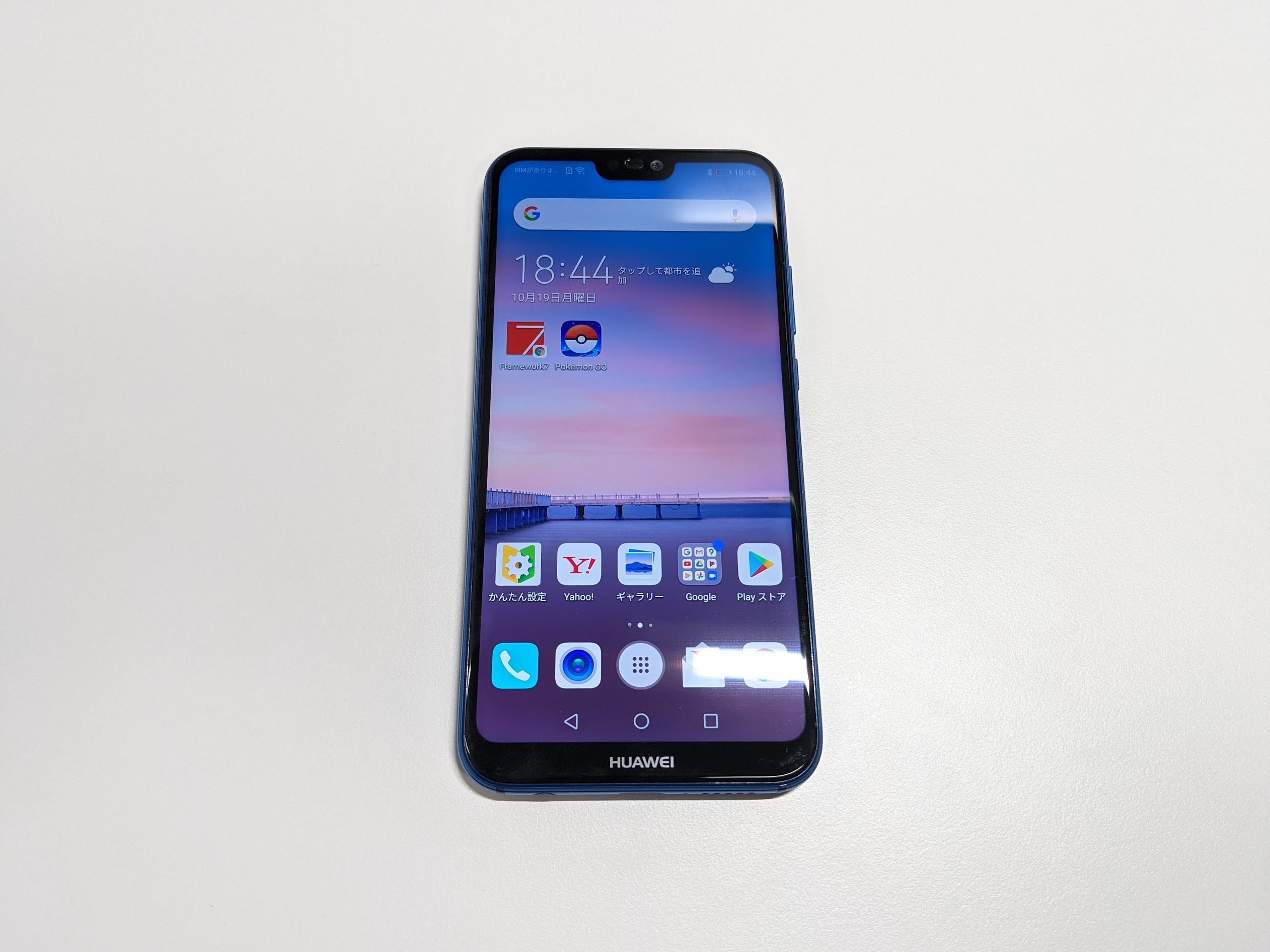 The HUAWEI P20 lite was used for about two years, but it was slow to run only because it was a low-spec device, wasn't it?

It was like a specs for the price.

When I was using iPhone X, I could not stand the sluggishness to the extent that it is a sub terminal, so I decided to replace it with the announcement of Pixel5.

Because Pixel5 CPU is a Snapdragon 765G, in terms of specs the position of a middle-end device, it is the case that
I was a little apprehensive about replacing it for a crunchy operation, but

I bought it with the faint hope that it would be reasonably crisp since the memory was a threatening 8GB.

As a result, my fears were betrayed in a good way 😆.
What about the Pixel 5's 5G support?
As it turns out, the 5G areas of each carrier are not yet nearly as widespread as they should be.
It's not an exaggeration to say that 5G is almost unusable as of October 2020.

I tweeted the following about 5G areas on the three major carriers.
5G finally available on iPhone 12! I thought I'd like to know what's going on, but the 5G status of each company is not at all.

I'll put up the 5G status sketch and links for each company.

docomo👉 https://t.co/cD8SglXw6E
au👉https://t.co/WPm87w0gyy
softbank👉https://t.co/DGbwdE6wN8

If so, though, I'm an iPhone X and I'll be replacing it. pic.twitter.com/Tbu7JsDq0C

– Suzuki Takafumi @ Engineer Blogger (@kahoo365) October 14, 2020
As you can see on the map, it's not very popular at all.
Incidentally, I'm using the budget SIM Y!mobile for my mobile line.
Although Y!mobile doesn't have the same speed as the three major carriers (docomo/au/softbank), it's a sub-brand of softbank, so it's fast enough for my needs. The monthly rate is also cheap.
What makes me happy about Y!mobile is that you can easily add a dedicated data line with the contract called "Share Plan".
With the Smart Phone Plan L, you can add up to 3 data-only child lines per month for free.
So it's a great match for people like me who use sub devices like Android and cellular versions of the iPad.
This time, I only had to replace the SIM card of the Y!mobile share plan on the Pixel 5 with the old device.
I inserted a Y!mobile SIM card into the Pixel5!
That's why I inserted a Y!mobile SIM card into it.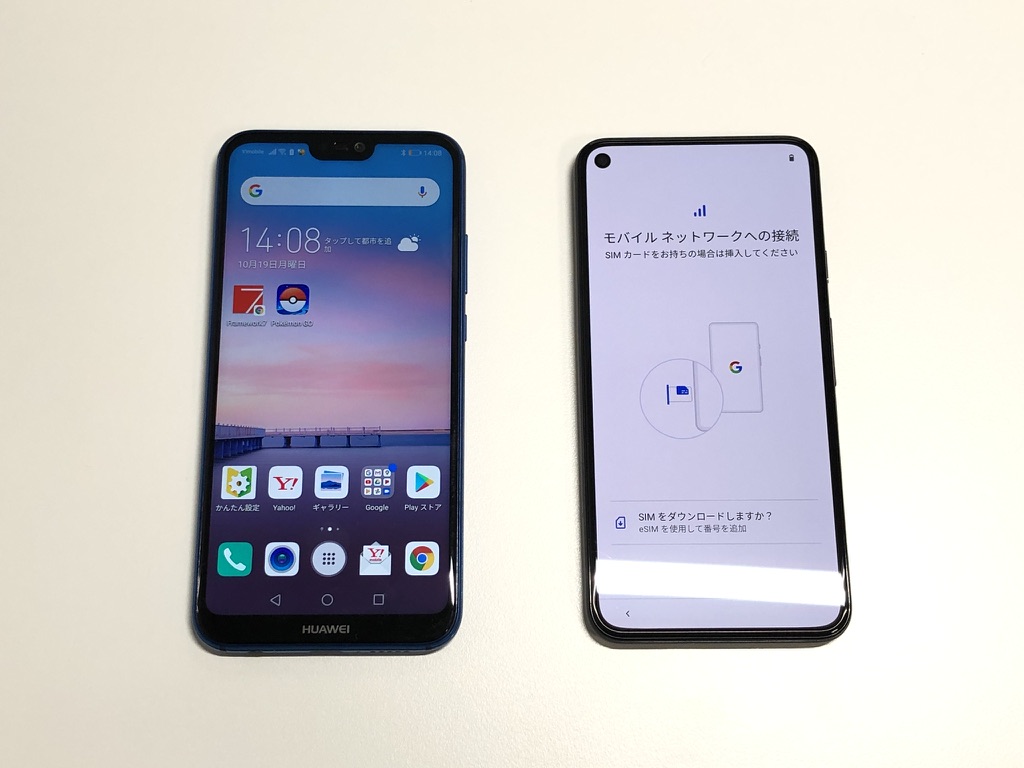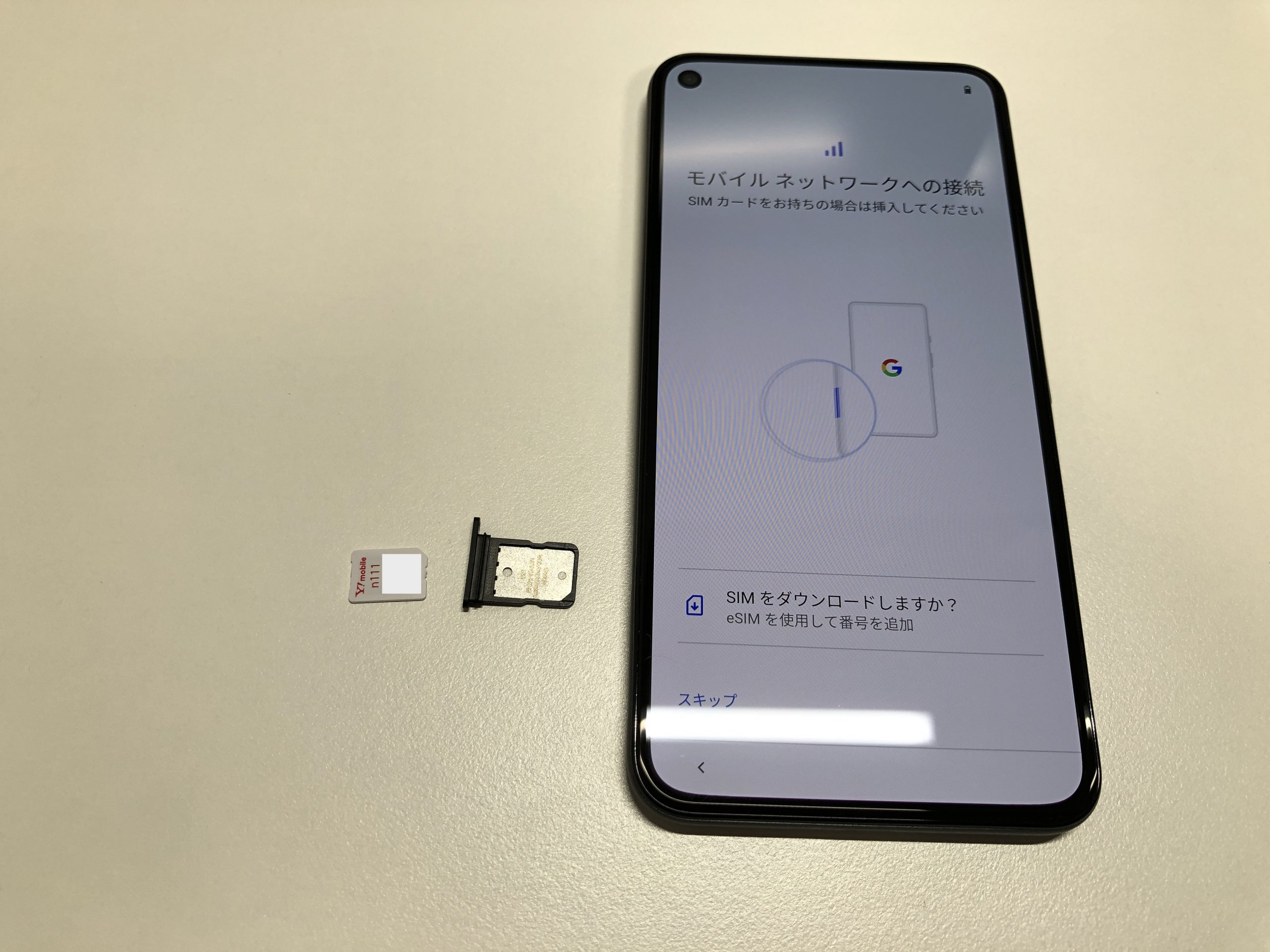 When I inserted the Y!mobile SIM card, I was able to use it without any additional settings, just inserting it!
That's a SIM-free device!
And the download speed is 32Mbps.
Well, it's a speed you can afford.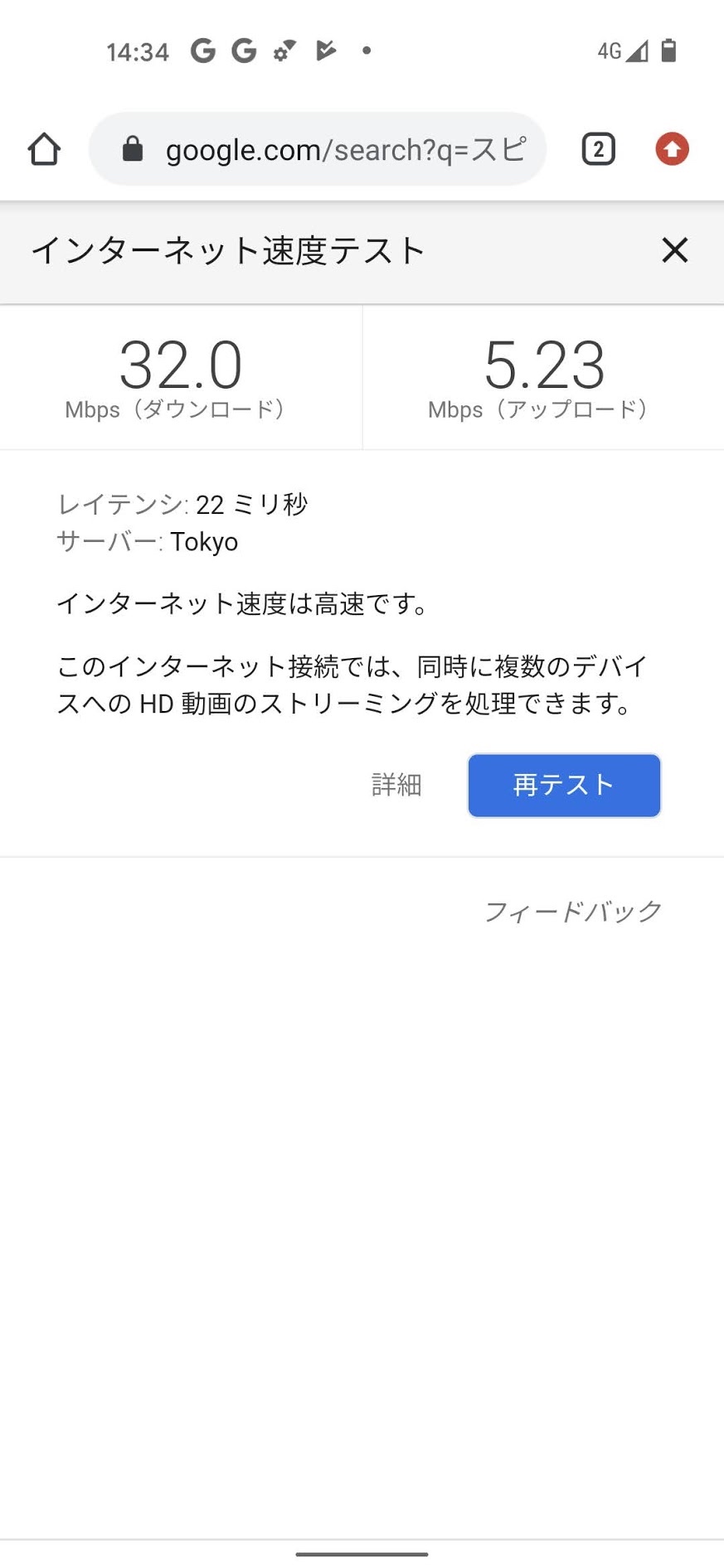 I liked this part of the Pixel 5
Here I will introduce what I personally think are the best points of the Pixel 5.
Everything works smoothly
.
I bought it because I was fed up with the HUAWEI P20 lite's chunky feel, as mentioned above.
The Pixel 5 runs pretty crisp overall!
We measured the benchmark and compared it to the HUAWEI P20 lite.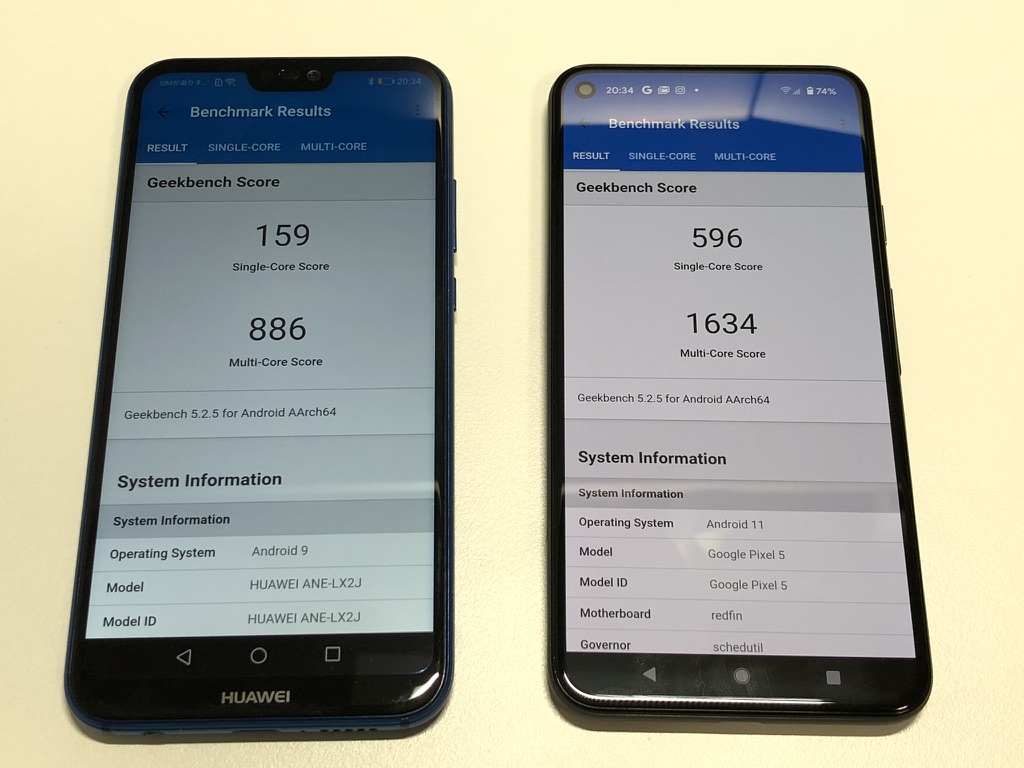 3.7 times more single-core than the P20 lite!
On the P20 lite, it feels like it's sluggish, even when flicking text in and out.
Pixel 5 gives the impression that even the flick of a letter is snappy.
It's quite comfortable.
We had some concerns with the Snapdragon 765G CPU, but the Snapdragon 765G is perfectly comfortable for normal use.
Here's a video comparison between the P20 lite and the Pixel 5 with a sliding Yahoo top page.

The P20 lite isn't completely on top of it and it's crunchy, but the Pixel 5 is great at tracking the slime.
Just the right weight
The P20 lite felt like it was too light to be dropped, but this weight on the Pixel 5 is exactly the right weight.
The nominal value is 151g, but the actual measurement was 148g.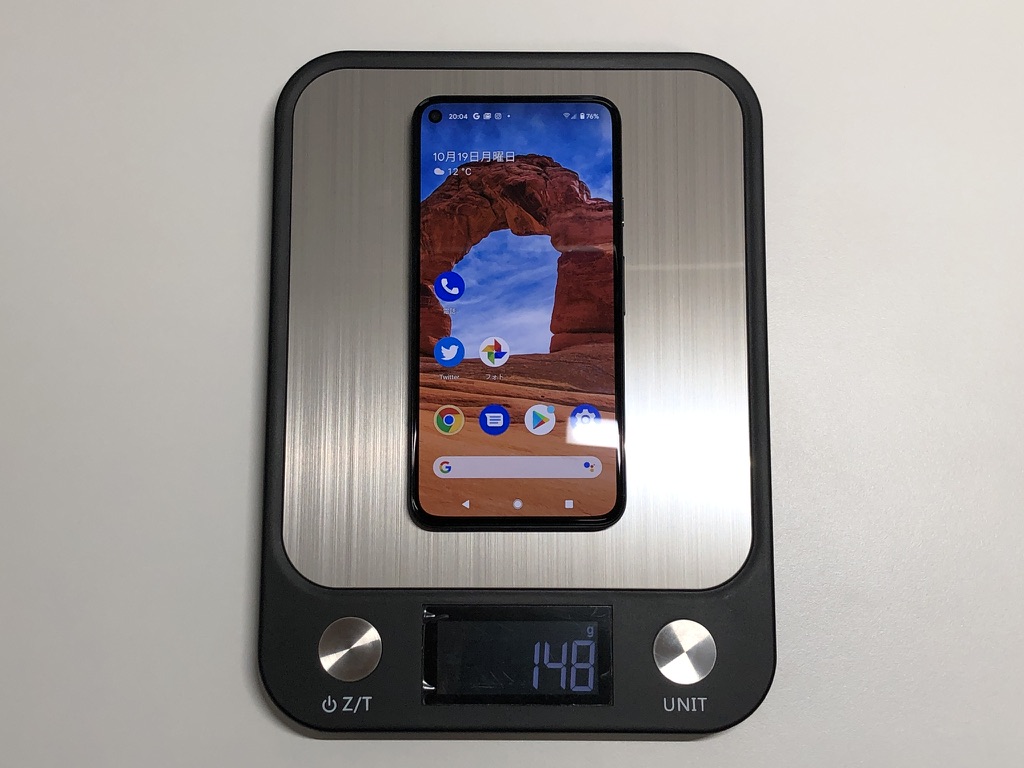 I think this weight of around 150g is still the most comfortable for me.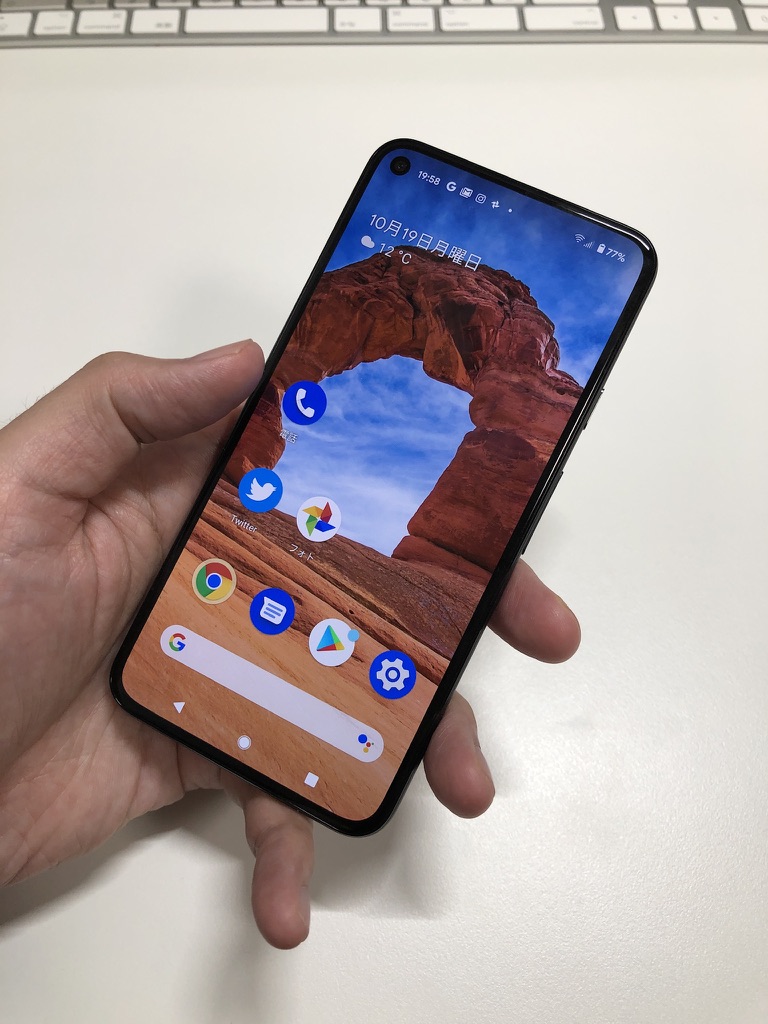 If I were an adult male, I'd love the feeling of being able to fit it all in my hand and operate it with only one hand.

It's nice and thin.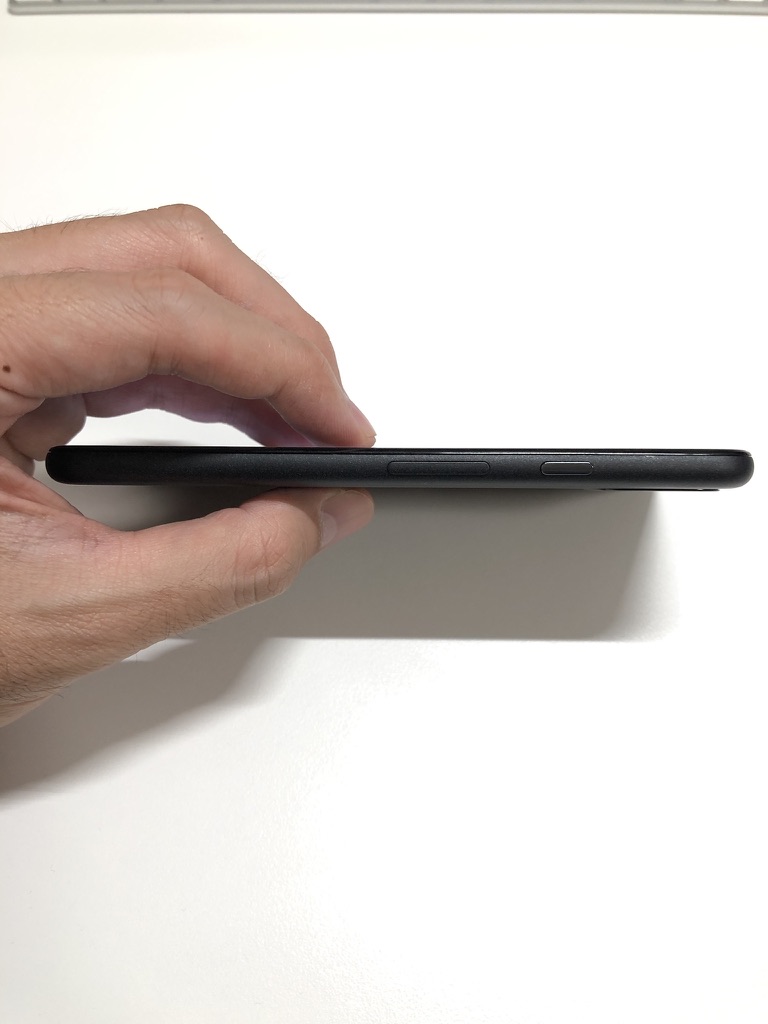 Thinness is 8 mm.
The familiar "back button, home button, and app switch button" in Android are gone, and by default, the
Back to action → Swipe from left to right
Back to Home→Swipe up from the bottom
Switch apps → Swipe up from bottom to top to stop your finger.
This is exactly the same as the iPhone. This is exactly the same as the iPhone.
I thought "Wow, it's just like the iPhone, so it's easy" but it was still hard to use on Android.
However, I was able to turn this back on in settings.
Go to Settings app, go to "System" – "Gestures" – "System Navigation" and select "3 button navigation".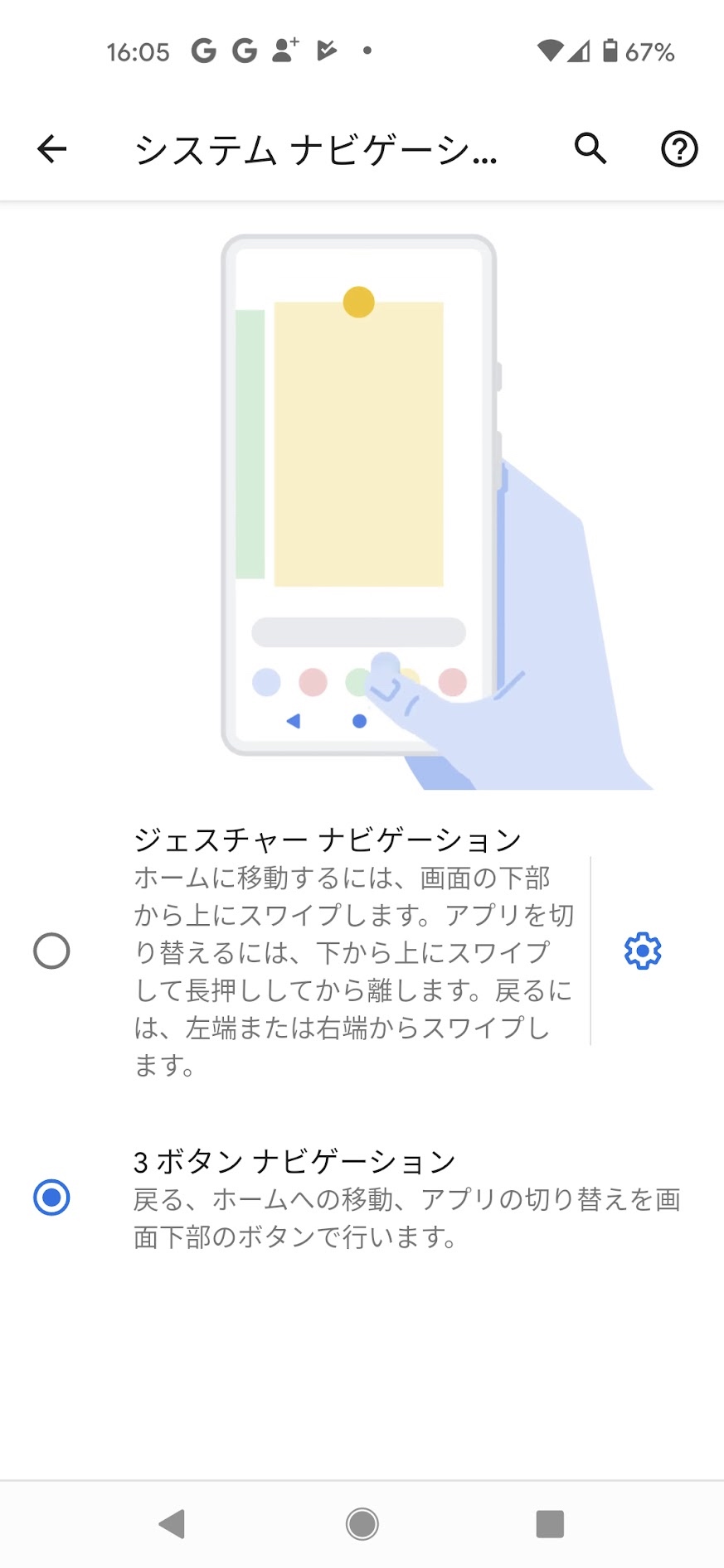 Android is still the way to go!
Using the phone itself as a wireless charger is this technology that provides battery power, but it seems to have quite a few opportunities to be used.
I can charge my iPhone X normally.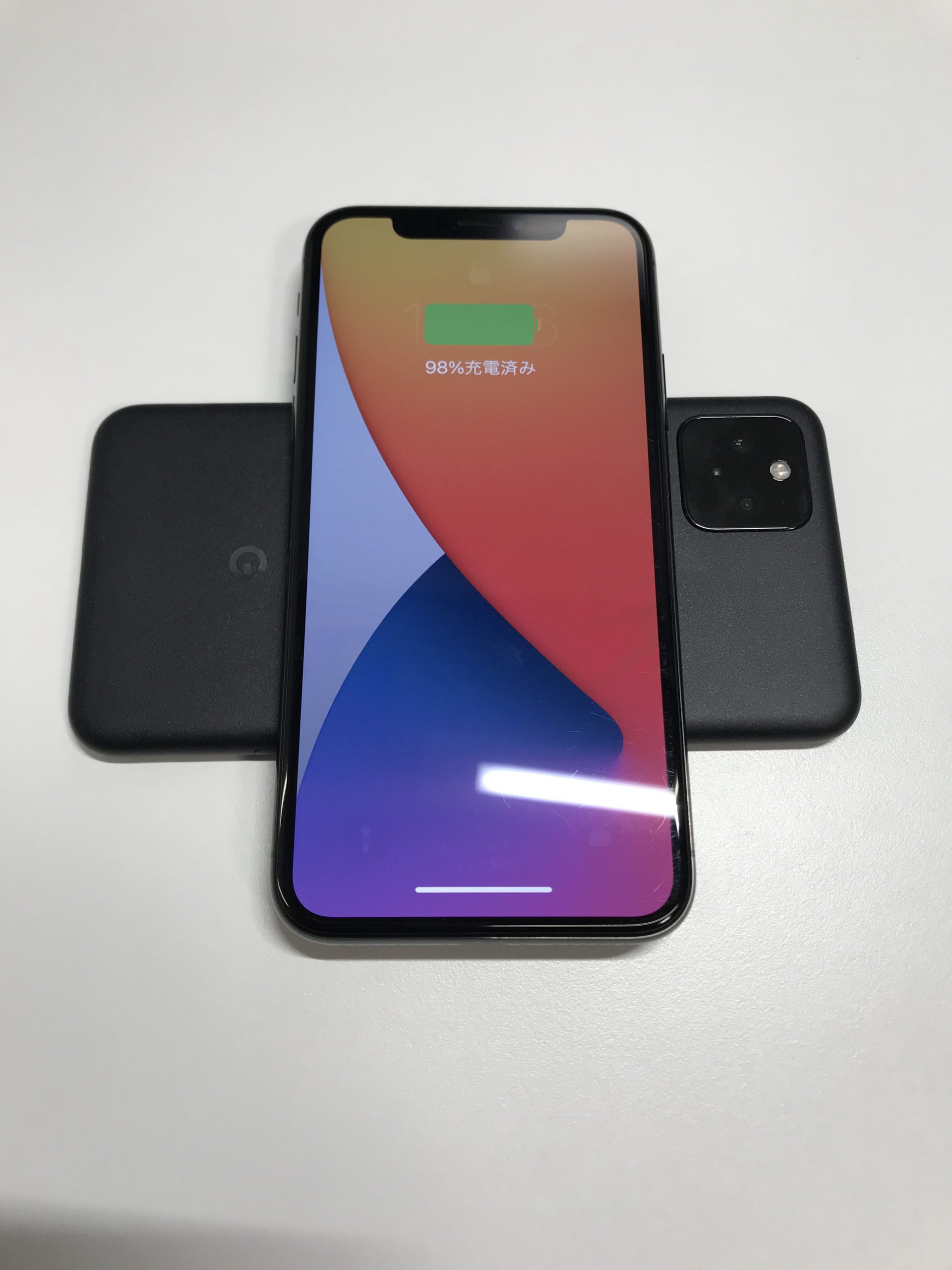 I was able to power the AirPods Pro.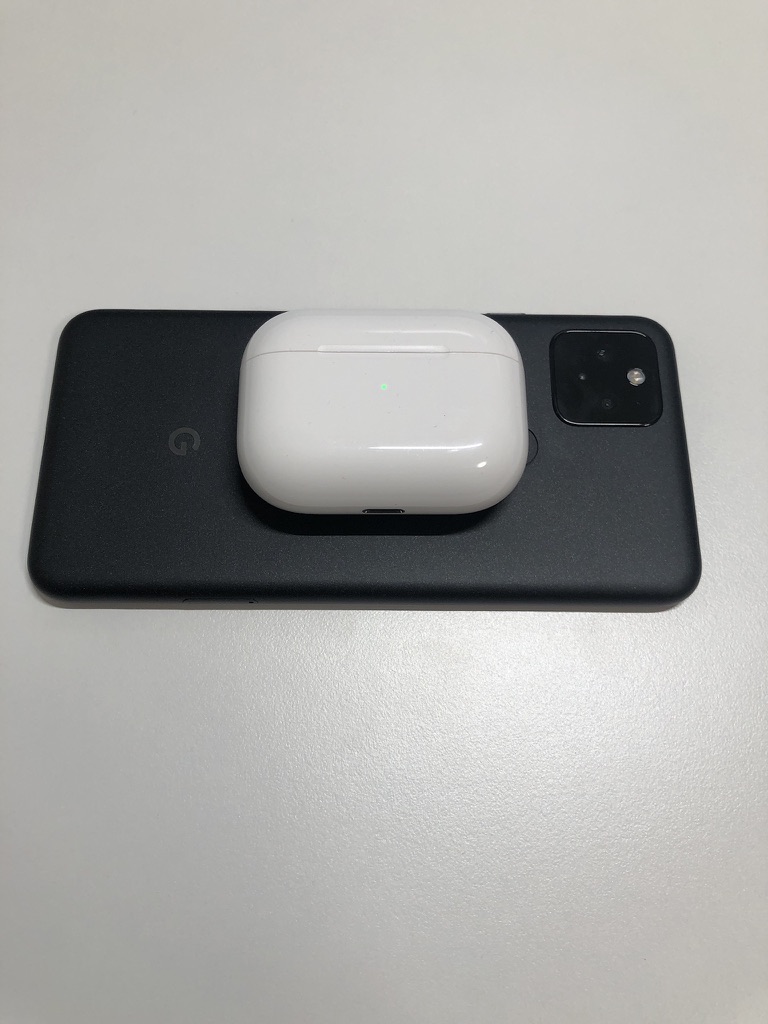 It will be useful in an emergency.
I can charge wirelessly!
The Pixel5 supports wireless charging.
The Pixel 4a (5G), which was released at the same time, doesn't come with wireless charging, so I'm wondering if this difference is significant.
You can also use the following link to get a link to the Pixel5: Anker PowerWave 10 Stand" and was able to charge it right away.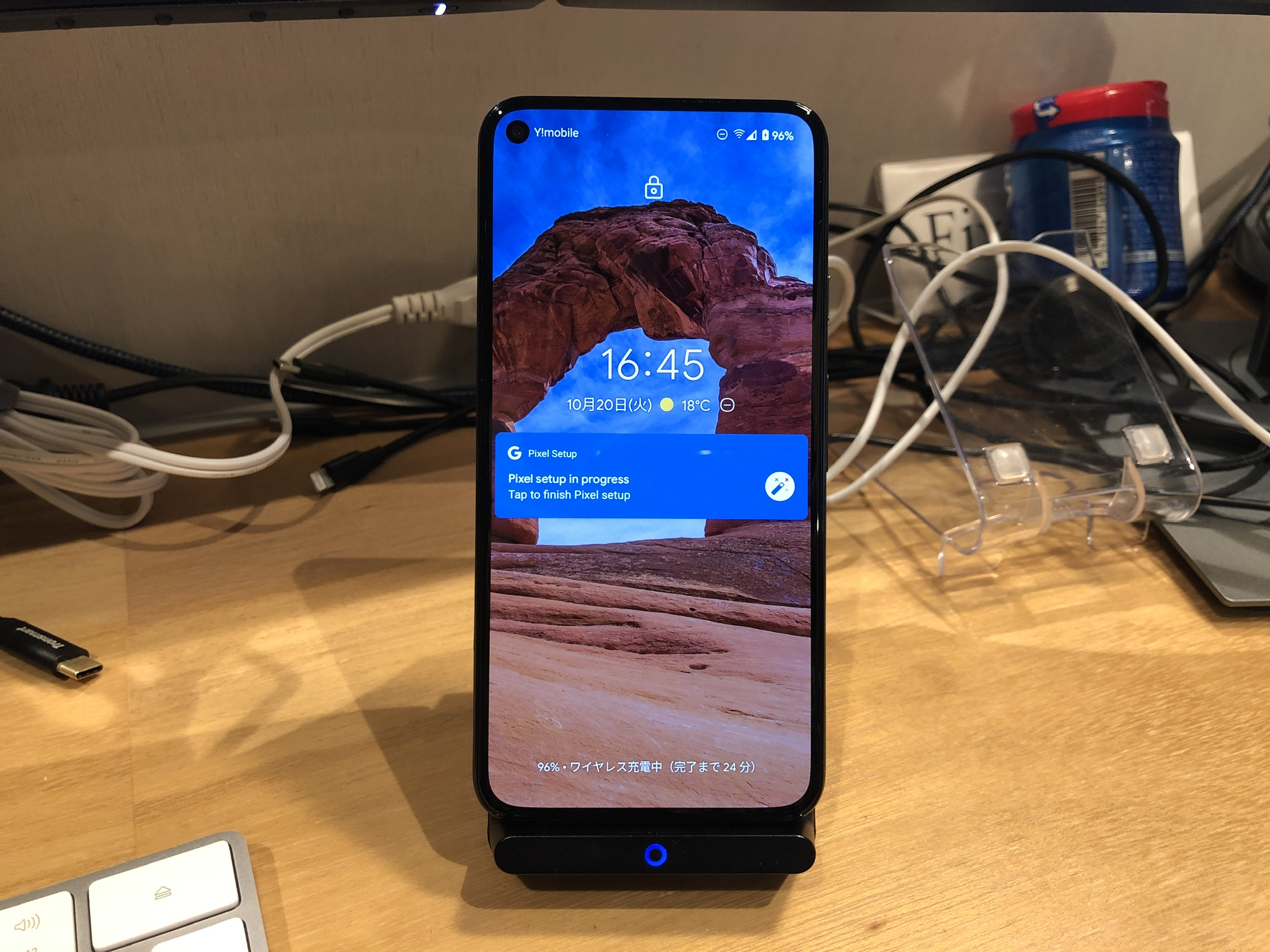 [Ranking #1] Anker PowerWave 10 Stand is the best iPhone/Android wireless charging!
As they say, camera shots in the dark are beautiful!
The Pixel is beautiful in the dark, so I'll upload a gallery of images, including night photography photos.
This slideshow requires JavaScript.
At night, it seems that the image was processed by software to create a picture, because it took a few seconds to complete the shooting, instead of taking a quick snapshot.
Summary
I found that the Google Pixel 5 is a crisper device than I thought it would be.
Finally, I'd like to reflect on this article.
What is GooglePixel5
5G-enabled phones, but 5G is hardly available as of 2020
The quality of the phone is generally well-balanced as a smartphone. Even with a middle-grade CPU, it's perfectly fine
Wireless charging, battery sharing, and other features come in handy!
I found out that this is a phone that is a good choice.
This is a device that I can honestly recommend.
That's it from the field!